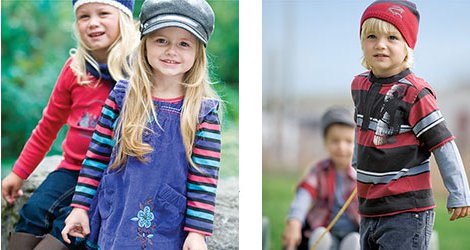 The Pumpkin Patch Sale is on and there are some rather fabulous bargains to be had!
There are all sorts of things up for grabs, and included, in the Pumpkin Patch Sale - popular sizes and gift items tend to sell out fast, so if you see something you like in the size you're after then BUY it! Otherwise you might end up missing out.
You can buy two tops or t-shirts for £8, pick up two pairs of leggings for a tenner and there are buy two get one free offers on tights and baby clothes.
You can mix and match across ranges and sizes and having had a quick look-see around the Pumpkin Patch website, it seems that there are price reductions on pretty much everything they stock!
There are cute party dresses for girls, and rather dashing outfits for boys, warm cosy jumpers and hats.
Pumpkin Patch cater for newborn babies right the way up to 11-year-old kids and sometimes I wish they did grown-up versions of some of their things!
Christmas gifts are also part of the Pumpkin Patch Sale and are part of a buy one get one half price offer.
Standard delivery is £4.95 via FedEx within seven business days...although with all the snow chaos going on at the moment this obviously can't be guaranteed.
Thanks to samanthab at HUKD