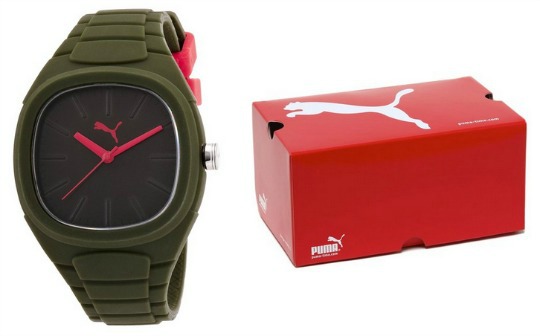 We know that it's not just babies that you guys have to buy for this Christmas, and you actually have teenagers to please too. That's why when I stumbled across this funky Puma Bubble Gum Unisex Watch for only £17.08, I just had to share it. It's being sold at this magnificent price by Amazon and it includes their FREE Super Saver delivery. I have NEVER seen any of the watches from the Puma Bubble Gum range so cheap, in fact I have never seen them below £30.
This watch isn't mega sporty looking, but is quite sleek looking. This would suit a teenager but to be honest I would happily wear it and I am the dreaded 30!
The strap on it is a dark khaki green colour and is silicone. I quite like silicone straps as I find the last the longest and don't get as mucky as leather or metal. Why? I have no idea.
It is water resistant to thirty metres, so it'll withstand some of those whoopsy I just got into the swimming pool with my watch on moments.
I think if you are struggling for a teenager then this watch won't fail to please, as it's pretty trendy and is a great price.