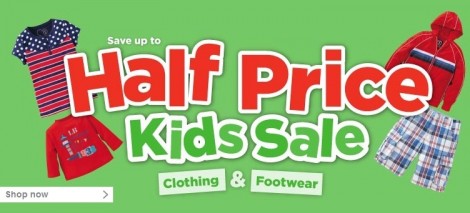 Woolworths are holding a half price sale on kids clothing and footwear at the moment and there are some awesome outfits and essentials to be had. Sure, some of them are from the winter range but what better time to stock up for next year than in a half price sale?
The Woolworths half price kids sale includes several different types of clothing across boys and girls, as well as a nice little range of shoes. You will also find some great discounts in their Mother and Baby Event, as well as in furniture and entertainment. In fact, Woolworths seem to be on sale across the entire online store!
Some of the items I am particularly impressed with include padded coats down to £10, pull-on pants from £8, and their 25% off schoolwear sale. This is a good time to sort out whatever they need for next term and next year I think!
So, take a look around and save lots of lovely money by buying all of your essentials at a discount.