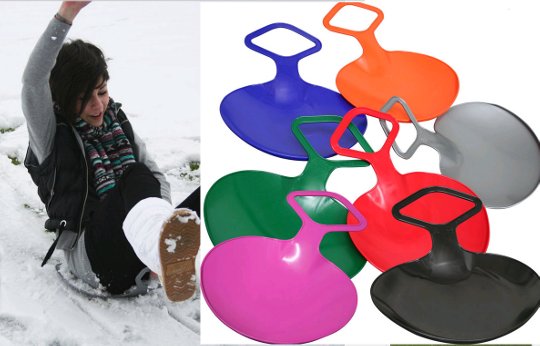 Newitts either know something we don't and are preparing for the snow, or they know something we do and are trying to get rid of sledges that won't see much use this year. Either way, they are selling their Sports Pocket Rocket Sledges £1.00 each.
The Pocket Rocket Snow Sledge is made in the UK from pride grade durable high density polythylene. It is a comfortable and flexible sledge with and angled handle or grip. The polished underside make for the 'ultimate sledging experience - you just lift the handle towards your stomach and launch yourself off.
The sledge is easy to carry since it only weight 180g, and is suitable to open terrain.
I'm not sure but I wonder what these would be like on slides at the local softplay centre. The have mats for the children to slide down on, but I love the idea of this, personalise and ready to go.
The postage on these is more than the item themselves - it starts at £1.99. At the time of writing there were around 30 each of the red and blue, but over 300 of the pink.
Thanks to helen18 at HUKD