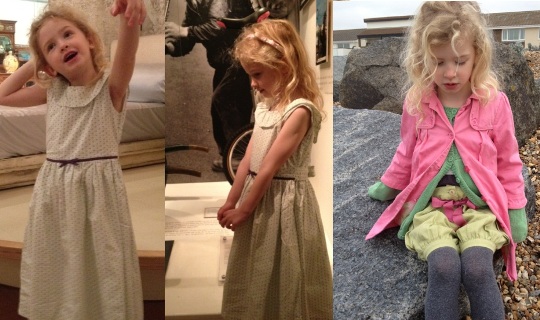 Half Pint Chic has teamed up with my daughter to see if she can offer an "on the ground" review (as it were) of the designer clothing sales that they run every week. Each week she selects two items from the sale, wears them for a day, and tells me what she thinks.
This week the sale is Nicki Macfarlane and wow, we were both really taken with the items on offer. Right from the top of the page to the bottom, Tabitha was pointing at items and going, "I want that! I want that!" And I had to agree with her. The colours, styles and cuts were stunning.
We eventually settled on a pair of Hyacinth shorts in lime down to £12.99 from £34, and the lovely Bluebell dress in pink floral down to £19.99 from £56. The clothes are lovely. Even my husband, he who honestly wouldn't notice if my dress was made from a sack, was impressed and that is saying a LOT.
The Bluebell dress was instantly put on and did not come off until the end of the weekend. We barely managed to persuade her not to sleep in it. There was a debate about which way around the dress should go, though, as I had left the husband to do it while I made coffee, and came back to her wearing it the wrong way around.
After much debate and my pointing energetically at the picture on the website, he agreed that the ruffle went in front and the buttons at the back. My daughter thought this hilarious but honestly, she adores the dress. She finds it so comfy and says it makes her feel beautiful. It is worth every penny just for that! My daughter is extremely fussy about what she wears.
The shorts were worn under the dress for the weekend. I had to really bribe Tabitha to wear a shirt with them so I could take a photo. She really liked these and said that they were very comfy and she loved the pockets. Our only criticism is that the fabric used as a belt is very slippery so if your child, like mine, has a tiny waist and needs a lot of cinching, you have to keep on retying it. A bit of a pain, especially when those shorts are stunning.
Fancy getting a look in on the Half Pint Chic Nikki Macfarlane sale? It starts tomorrow here….