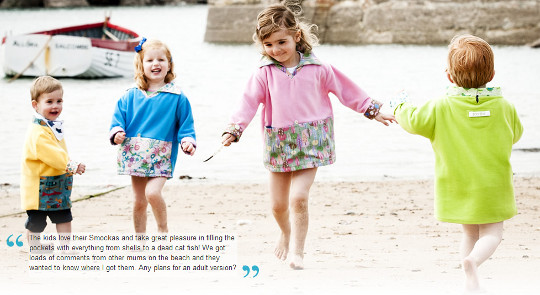 As the weather turns cooler and the days shorter, the fields and forests around us take on the autumn colours, and one of my favourite things to do with my children is getting gathering leaves and playing in the outdoors. I have to make sure that my toddler is wearing something with pockets, because as soon as we leave the house, she starts filling them all sorts of 'treasures', and on returning home, she has her 'treasure chests' where her new loot finds pride of place.
Which is all fun and games till I do the laundry and end up wi­­­th a machine full of sand, twigs and dried up – now soaked – leaves.
Ocky Olly (£35) have introduced their Smockas to the world, and we love them! The Smocka is an oversized children's sweater with a waterproof lined front pocket, purpose made for collecting leaves, shells and so on. The sweater bit is made from fleece and is large enough to fit over regular clothes and jumpers or coats in really cold weather, or can be worn as 'something warm' in these early autumn days.
The pocket is large and holds loads, so it's a good idea, for us at least, to have a culling exercise where we choose our favourite treasures before we get in the car!
The pocket is also, as I said, waterproof, which means if the fleece is wet or muddy, you can turn it inside out and basically store the fleece inside the pocket, closing it with the little button just for that purpose. It keeps even wet and dirty Smockas clean and dry inside your bag.
There are currently two girls and two boys styles to choose from, with more expected early next year. The boys styles are yellow and green fleeces, while the girls are pink and blue. We chose the blue fleece with the gorgeous 'feed the monkey' pocket design, but to be honest, apart from perhaps the pink fleece (which had my favourite pocket – the 'magic wood') all the Smockas are interchangeable and can be worn by either gender.
As an added bonus, the Ocky Olly website has a 'club' area where you can find fun ideas for things to do outdoors.  If you need more convincing, you can also watch the video on the website, which shows the Ocky Olly in action.
P.S. My toddler wears this to her forest school sessions, and everyone always comments on how practical and useful it is and what a great idea it is!