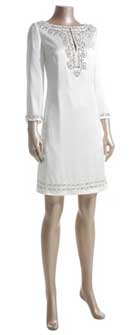 Maybe in this year's Monsoon summer sale I'll find something I really really like; I 've always wandered in and out of there empty handed...not such a bad thing, some would say...like my bank account!
The Monsoon summer sale is on both in internet land and on the high street and, whilst some think that their clothes are overpriced to start with, it's always worth a quick nosey around to see if they have anything that takes your fancy.
I always associate Monsoon with women's clothes only, but they have a range for children, accessories and things for your home too! Just goes to show how often I go to Monsoon!
This white silk dress is rather lovely,  it's reduced price of £54 instead of £180 is rather lovely too and would be a stunning alternative to a big fru-fru wedding dress if you (or anyone you know) happen to be looking for something different to the usual bridal outfit.
Staying with a white theme, these white linen trousers have caught my eye - although you do have to be able to carry them off and NO wearing coloured knickers underneath, PLEASE, it's just wrong!
The sale runs until about the 9 August before summer is officially over and it's time to start drooling over big chunky knitted jumpers.
If you haven't got a Monsoon store near you, standard delivery is £3.95.
Thanks to scottishgirl187 over at HUKD!