There are some things for babies that we just know aren't really essential, but having them makes adjusting to life with a baby just that little bit easier. We have one just such thing for you today. The Minene Layla changing bag .
We sent them to PlayPennies mum Tammy to test for us, since she has experience in all things baby, and here's what she has to say.
"The Minene Layla changing bag costs £65, so I wasn't sure how I felt about it as a nappy bag when it costs so much," she started. "The bag is beautiful, however."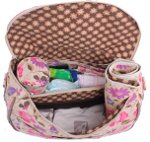 According to Tammy, the fabric is much nicer than the average bag and has a canvas feel to it.
"A big plus in this bag's favour is that it is thin and unobtrusive." Tammy says. I know what she means! "My old changing bag was big, bulky and in the way."
Opening it is easy with two zips that go in opposite directions on a half circle. The main bag has two compartments, and the front has three pockets stitched onto the outside for storage of wipes, emergency bottle and cash. "I did find them a bit tight for a big pack of wipes and ended up using them for packets of snacks for my older son and tissues and thinner items that can get lost inside the bag."
The bag has several different straps, for different carrying positions. "You have the backpack style on the rear for using with the pram or your back, and the shoulder strap. They are all adjustable. There is even a carry handle too. Big fat straps with a leather detail on the one side in chocolate and big silver buckles. These are cleverly designed for easy transportation and are one of the nicest decorative features."
On it's own, the bag is quite heavy, which Tammy found a negative point, what with everything that needs to be carried around in it.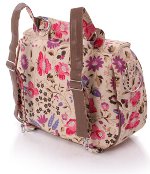 "The inside of the bag is very clever," Tammy explains: "There's another belt type bag inside, which attaches with press studs and can be taken out to form another lighter bag for a bottle, wipes and essentials on a short outing."
This extra bag has a mesh pocket, a sealable pocket with a press stud and a large interior that cannot be sealed but easily holds wipes and two large silver buckles on either end attached to the Velcro straps. There's a bottle warmer included too.  You'll also find a changing mat inside.
Cleaning is a bit of a downside for this bag. While it is beautiful, the fabric inside is hard to clean with wiping only and it says wipe clean only. "If you spill milk inside, that is it. I almost cried when I did."
Tammy's summary on the Layla bag from Minene?
"The bag is worth the price compared to cheaper ones on the market. It is really good quality and I would save up to buy one. However, that is an aesthetic choice on most levels, the quality, the fabric, the clever design. The things that really bring it down are the fact it cannot be thoroughly cleaned, which is not ideal for any bag that deals with babies bums on a daily basis, and the price."
The Layla changing bags are available from www.minene.co.uk and also from Babies R Us.