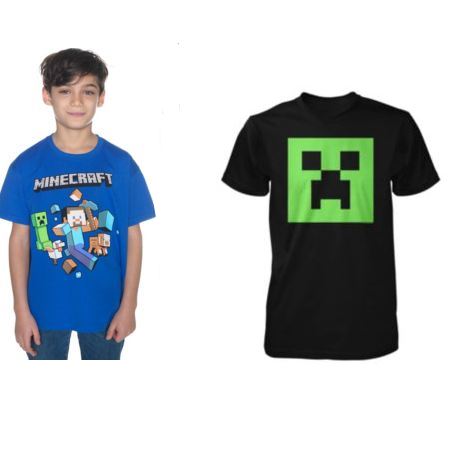 Okay folks, this is full price, but it's £5.99, which isn't much really. And it's for a minecraft t-shirt, which, lets face it, if you have a player in the house, is bound bring much more than £5.99 in joy and good will and brownie points. Of you could really take the boat out and go for the glow in the dark Minecraft shirt for £7.99. Not really going to break the bank, is it?
The Blue Minecraft shirt only has limited sizes unfortunately, but for those of you with 6 - 9 year old, you're in luck. They have them in sizes to suit you. Note how I didn't say boys there? My girl's favourite T-shirt is a boys' LEGO movie shirt, so really, just because it's blue is no reason to let it stop your Minecraft loving daughter!
As for the glow in the dark, they are available in sizes 6 - 13, so there's a bit more option there. I'm sure these would go down a treat, totally.
Both are 100% cotton, and both are available for in store or home delivery.