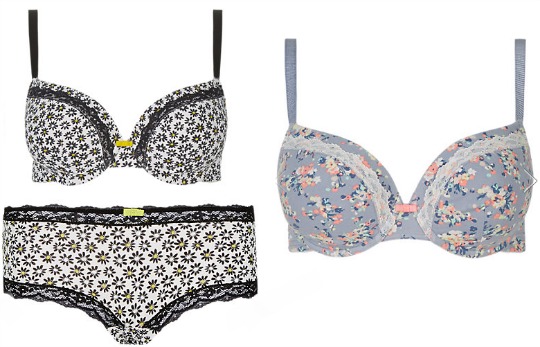 If you like to wear matching underwear then you really ought to head over to Marks and Spencer where you can bag a Limited Collection Lingerie Set for just £10. Use the promo code MAY15EM to get it for just £8! I'd be quick because M&S have quite the cult following for their lingerie. I always buy matching sets then end up wearing mismatching after the first use.
There are four different designs of bra to choose from, all with matching briefs. Just pick one of each and you will get the pants/briefs/knickers/whatever you call them for FREE, saving you £4.
They are all pretty modern looking so get it out of your head that Marks and Spencer is for those oldies.
Here are the bras: Daisy Print Padded Plunge Bra (DD-GG)*, that design comes in A-DD* too, Floral Padded Plunge Bra (DD-GG*) or (A-DD*), Striped Padded Balcony Bra (A-E)* and Spotted Balcony Bra (A-E)*.
And the Briefs: Striped Low Brazilian Briefs*, Spotted Brazilian Knickers*, Daisy Print Lace Trim Knickers* and Floral Lace Trim Shorts*.
You can Click and Collect your underwear order for FREE or pay £3.50 to have it delivered to your front door.