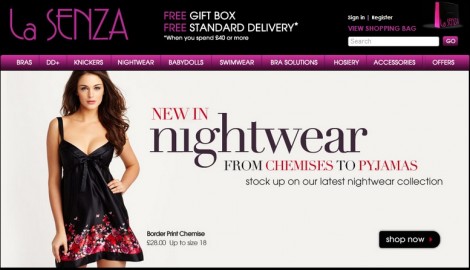 Use this online discount for La Senza women's lingerie to get 20% off your order. Applies to full priced items only. Standard delivery on the site is £3.45 or free if you spend over £40.
Click here to use this 20% La Senza online discount
Discount: 20%
Applies to: full priced items
Promotional code: January20
Expires: unknown
To use the code, enter it in the promotional code box on the checkout page.
This is one for both mums and dads, given that Valentine's Day is a few weeks away. Now if you are thinking of buying some lingerie for your other half, don't be afraid to choose white. I have read somewhere that when it comes to sexy underwear, women buy black because they think men find that sexy, men buy women red underwear because that's what they think is supposed to be sexy (which, to be fair, fits with what you see on TV and in movies), while men actually find white sexy. Is that true? I don't really know to be sure. But I am 100% sure that you should never, ever buy flesh coloured underwear for your other half. It really isn't romantic.
I worked one Christmas while at university in an up market department store's lingerie section. And it was amazing how many men came in, and had no idea really what size their partner was. Take a look at the labels in her lingerie. Or if you're on a spur of the moment quest, make sure it can be easily exchanged for the correct size. Sweetly, I think anyway, most men think their wives are much smaller than they are (judging by the number that came back to exchange for larger sizes on boxing day but that's another story!).
Thanks to WillPS at HUKD!