Kids-Pyjamas Online Promotional Code: Free Delivery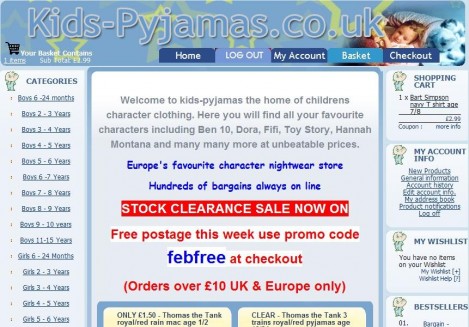 Use this Kids-Pyjamas online promotional code to get free delivery on your order when spending more than £10. The offer is available all week.
Click here for free delivery at Kids-Pyjamas
Discount: Free Delivery
Minimum spend: £10
Promotional Code: febfree
Expires: 19th February 2011
To use this code go to checkout. You will need to register on the site first, or log in if you're already registered. When you get to the Payment Details part of the checkout process, enter the code on the promotional code box.
I love free delivery codes. It means I can shop online without having to balance out whether it is cheaper to go to the high street (with petrol and parking costs) or pay the delivery charge. You can just order online. End of.
Mind you with this site you get a lot of items for your tenner. I tested it on a pair of pyjamas that only cost £2.99. And it isn't just pyjamas. There's a Thomas the Tank Engine rain coat on there for a 1 to 2 year old for £1.50.