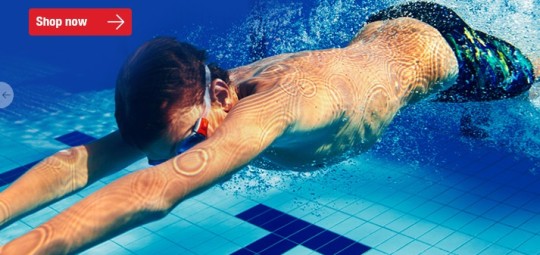 Speedo have a great offer at the moment with £10 off a £30 spend online. There's free delivery if your final order is over £45, but if not your delivery is £1.99, which isn't too bad.
Click here to browse Speedo Juniors*
Discount: £10 Off £30
Expires: 31 August
Promo Codes: junior10
I've decided that my kids need to start swimming classes in one of the local (fortunately heated) pools this semester, so that next year we can enjoy our pool side holiday with a little more freedom. I've  just spotted £10 off a £30 spend at Speedo Juniors, which I think is a great saving!
It doesn't seem to work on swimming accessories, which is unfortunate, but it does work on costumes for boys and girls, so our regular school style costumes would cost £13 each - and I think I'll size up an extra one for the sake of the freebie. 2 girls, three costumes would be £39, add the code and it's £29 (as compared to £26 if I'd just bought the two.)
The same goes for boy's jammers. It's actually worth going for the more expensive £15 sets (as compared to £13) so you get £10 off.
Alternatively, you could get 2 legsuits at £16 each, and end up paying £23.99 delivered. Now that's a bonus for Speedo, I reckon!
For this and other promo codes for Speedo check our vouchers page.