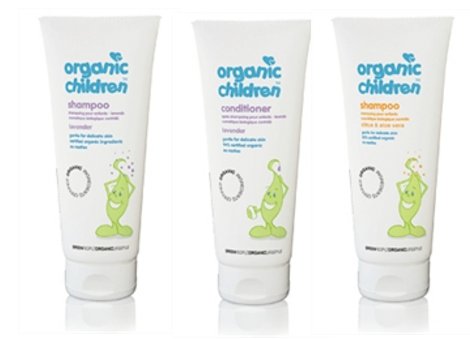 My daughter suffers from eczema and is very sensitive to most 'normal' baby products. With a family history of severe dermatitis and eczema, I am very cautious about what I use on her.
I discovered Green People at the allergy show in London last year and have been using their nappy balm and sunscreen for Kyra ever since. It was only natural then that I tried their shampoo and conditioner.
The Green People children's shampoo and conditioner are quite expensive, but are worth every penny and are actually great value. When they arrived, I used some on myself first, to test.
The shampoo is very watery and runs out quite quickly. I have very long hair, down to my waist, and while I normally require a good handful of product to lather my hair nicely, I only used about a tablespoon full of the Green People shampoo and ended up with way more foam than necessary. The shampoo is lavender scented, but it wasn't very strong at all, and I actually thought it smelled a little watered down, which is good if you aren't really a fan, I guess.
The conditioner is slightly thicker, but still a lot more watery than most, and doesn't require any squeezing on the tube - again a good thing as you're not going to be throwing out a lot of product you couldn't reach.
The conditioner stays in for 1 minute, and can then be rinsed out. I wasn't sure at first whether it was really an effective conditioner or not, because my hair didn't feel particularly smooth, but once it had dried I was really surprised at how soft it felt. I tried it again on my daughter's hair with the same result – beautiful, soft, bouncy, curls, and I'm sure it's given her hair a lot of body too.
The blurb on the back of the tube says a little goes a long way. In fact, according to Green People, the 200ml tube is equivalent to 600 – 800 ml of other product. I must say, I agree. It really lasts a long time.
Also, since it contains no SLS, parabens or other nasties, I have no worries that it could cause my daughter eczema or be harmful to her at all. The conditioner has more of a lavender scent, but with her hair dried it just smells pleasant, rather than overwhelming.
For children with sensitive skin or eczema, I think this is a brilliant shampoo and conditioner.
Also available in Citrus & Aloe Vera
Price: £7.75 each