The GoVinci Trunki Backpack Review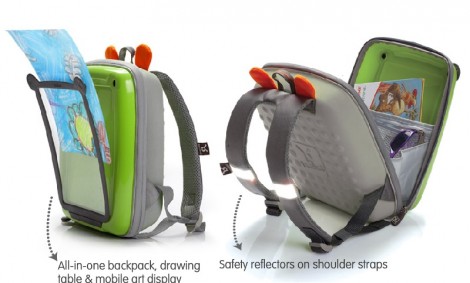 You can't imagine my excitement when I heard that Trunki, the makers of those ingenious suitcases for stressed out parents, had branched out into making something perfect for school kids. The GoVinci backpack is the ideal back to school tool and, the best part, is that you can use it for any occasion.
When I first wrestled the GoVinci backpack out of the box my daughter went crazy with delight. I've never seen her so excited about something so functional before. Trunki seem to have their fingers on the pulse of what kids like, that's for sure.

This is one neat, solid and fabulous looking backpack - it even has little ears at the back, that face outwards). And here comes the ingenious part – the back has an unclippable frame for kids to store their artwork in.
Brilliant, no? Well, yes AND no. It is awesome and it comes with a pre-sized piece of card that your kids can colour in and customise straight away. Plus you can even download other drawings from their site, print them out, and customise them the same way.
However, the backpack (obviously from necessity and size constraints) is smaller than the average A4 page so if your child creates a masterpiece at school, you're going to have to cut it to fit. I am reluctant to do that because I am a sentimental soul and don't fancy slicing off her hard work.

That said, once the picture is in the frame it looks awesome. Really awesome. My daughter and I quickly coloured in a picture of Buzz Lightyear (her current throb), cut him to size and popped him in. She refused to take the backpack off for the rest of the day. And this morning it was the first thing she  put on. Poor Buzz Lightyear (the toy), he's been stuck in there for two days without air and light.
And on that note I need to add that, thanks to the solid back and design, this sort of fragile toy has survived quite a lot of running around and crashing into things while he's been in there and he hasn't suffered an ounce of damage. This bodes well for future semi-fragile school items and the durability of the product itself.
Oh, and I should mention that clipping the picture into the frame is dead easy. Just pop the top open, put the picture in, and pop it back on again. Voila! Done!
The solid back also provides kids with a table on which they can draw on the go. I took my tot shopping with me and instead of enduring "I'm booored"; I had complete silence as she sat in the trolley with her GoVinci on her lap, drawing away. And the pencils are all neatly to hand inside.
Another big plus is the fact that the side pressing against her back is delectably soft and the straps are really comfortable. They have a mesh on the inside that feels lush against skin (yes, I tried it on) and hold the weight of the backpack really well.
Inside the pack you have a huge number of differently sized compartments to fit pens, pencils, notebooks, pads, toys and more. Depending on what you're using it for, this will safely store any number of different items and won't have them rolling loose inside the bag.
Frankly I love it and think it is worth every penny of £19.99. Yes, it is quite a costly investment but I think that this backpack will still be trucking along for many years to come, and most of the bags I've bought in the past have only lasted a season.
And Finally
Solid, comfortable and with a unique selling point, the GoVinci backpack is a great travelling companion, back to school item, and toy. If my child's reaction is anything to go by, this will be a huge hit with tots around the country.
And stay tuned because in September we are giving away TWO GoVinci Trunki Backpacks to two lucky PlayPennies readers. Woo hoo!