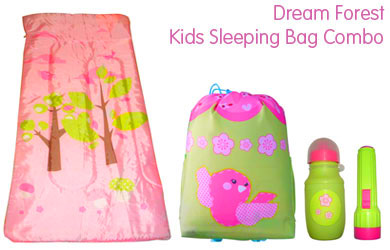 As winter sets in and rain pummels the window pains of our Island, I'm sure I am not the only one that needs help finding ways to entertain the little one, so this sleeping bag set from The Entertainer for just £5 – down from £15 - sounds like a weekend bargain to me.
It reminds me of sleepovers in the lounge with my sister and brother, and of mum roasting marshmallows on candles on the kitchen table.
This girl's sleeping bag, with a temperature rating of 12 degrees, is perfect for indoor use. The set contains a zip-up polyester sleeping bag, which measures 68cm by 147cm, a torch and plastic water bottle – perfect for washing down the marshmallow-ey sweetness.
It all comes packed into a pretty bag that has two pockets, backpack straps and a drawstring top. The images are girly, but quite timeless as they aren't character specific.
At a third of the original price, I'm quite tempted to buy them as Christmas presents for all my friends with girls – throw in an invitation to a January sleepover and it's the perfect excuse for me to spend time with my girlfriends too. I'm sure the husband won't mind!