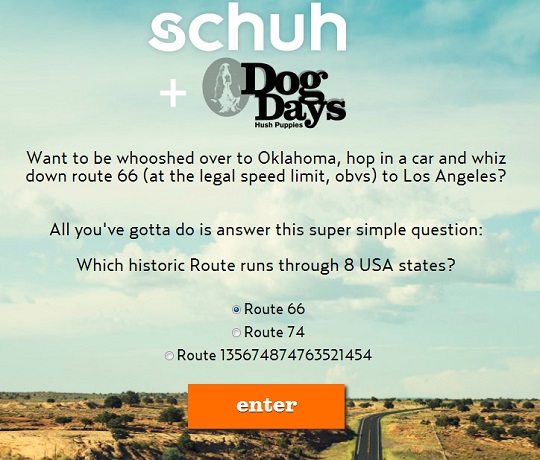 It's Tuesday and it is competition day! What a fabulous thing. Don't forget to enter our very own competition to win a copy of the new game Mask 'n' Ask from Drumond Park, it's a stunner.
Now, on to the chance for you to win gorgeous organic kids clothes from Frugi courtesy of Yeovalley. To win you will need to enter the competition by playing a maximum of three spins per day on their cool fruit machine. The prize this fortnight is for seven £50 online vouchers to spend at Frugi and the competition will end on 13 September 2013.
Now it's your turn mum, how about entering this competition with Closer to win a haircut and a colour at Saks? If you're bored with your hairstyle and desperately want a new and vibrant colour, then this free competition is just for you. To enter you need to answer the question below before 23 September 2013.
Q: Which of these is not a type of hairstyle?
A: Shampoo
Finally, you can win a trip along Route 66 with Schuh*. How awesome is that? To enter you will need to visit the Schuh Facebook page, answer questions about your age, register or login via Facebook and then answer some more questions about the area. To enter you will need to enter quite soon as the end date isn't publicised on the site, but the winner is to be announced on 22 September.
Q: Which historic Route runs through eight USA states?
A: Route 66
GOOD LUCK!
Thanks to R902g1e9r and marba01 and nastynegs at HUKD!