Fabric Flavours Scooby Doo Review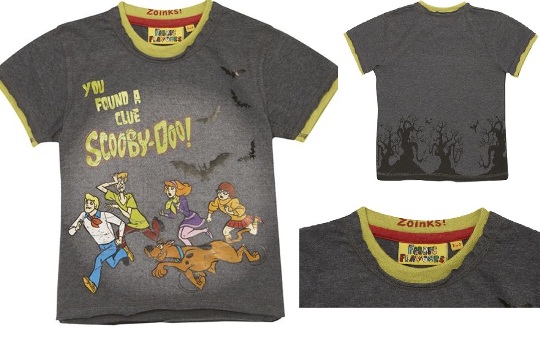 I recently got a Scooby Doo Halloween t-shirt from Fabric Flavours and it was one of those "little treat" buys that made me gooey inside. Costing £16 for a t-shirt it is not a cheap buy, not even slightly, but the quality and cool factor put this in the value for money bracket for me.
The shirt is made from dark grey cotton marl and the sleeves and neck are cut to show off a lime green rib. Printed on the collar is the traditional Scooby Doo catchphrase, "Zoinks!" and printed on the front is the Scooby Gang racing off to solve a mystery.
When I first got the t-shirt I was a bit worried. The print looks as if it was put on the shirt while it was a bit wrinkled as there are small strips of colour missing. Closer examination revealed that this was by design to create that slightly old and dishevelled look. I like it but I do take points off for it not being quite obvious enough to not look like a case of bad screen printing.
The quality of the shirt is amazing actually. I can really feel a difference between this cotton marl and the el cheapo fabric of her "buy one get 100 free" shirts that fill her wardrobe. Her being my daughter, of course. On the back of the shirt there is a spooooky forest printed in black. This doesn't have the intentional lines and looks really good.
The print of the Scooby gang is robust too. It has endured four washes and none of it is peeling off. You can get the t-shirt in sizes 1-6 years old and, my other favourite, is the Ghosbusters "I aint afraid of no ghosts" print on a babygrow – I wish they had that in my size…