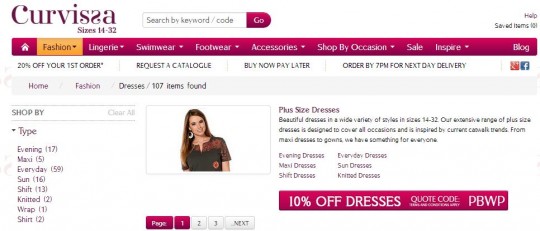 Curvissa is offering 10% off selected dresses on their website. Use the code below to claim this discount.
Take 10% off a lovely dress from Curvissa
Discount

: 10%

Expires

: 23 August 2013

Discount Code

: PBWP
It may not seem like much, but like most of us, my mind plays the .99p trick quite effectively (if something's £1 you might think it too expensive, but if it's .99p it seems cheaper than the difference really is), so if I see a dress for £42, I may not buy it, but if I see the same dress for £38.80, your mind thinks "It's £30-something. That's pretty good!" It just feels better paying the lower price.
To utilise this offer you need to have a dress from the qualifying dresses in your basket.
The code is valid until Friday and can't be used with other offers, so if it's your first order, DON'T USE IT and use the 20% off first order code instead.
This is just one of the many vouchers that Curvissa offers and you can always find the latest Curvissa discount codes in our vouchers section.