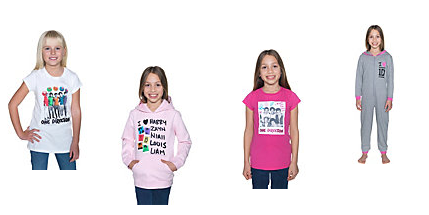 You seemed to really enjoy the discounted Tesco prices on One Direction last night, so when we found half price One Direction outfits at Argos, we just knew we had to share it with you.
If your daughter/sister/friend loves some 1D, this pink hoodie reduced to £8.49 might make her want to kiss you.
At £4.99 this band emblazoned pink t-shirt will be irresistible,  and let's face it, it's bright enough to keep you up all night but if you're looking forward to the tour, that won't be a bad thing.
If you want something a little less heart attack inducing, try the white t-shirt, also for £4.99.
Finally, at over 75% off, she can snuggle up with 1D, one way or another, for £4.99 in this Grey Hooded Onesie.
All of these are currently in stock, and they're all available for home delivery  or for store pickup if you can't wait that long.