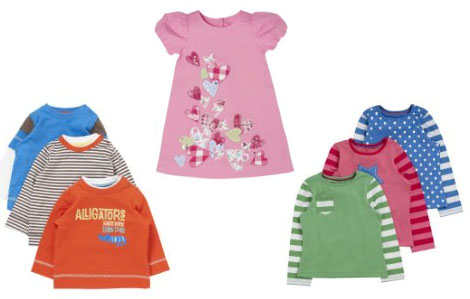 Those lovely folks at Mothercare have a children's clothes sale going on at the moment; there is 20% off a whole range of children's clothes.
Children, on the whole, are lovely but they do have this rather annoying little habit of growing out of their clothes, FAST!
Until you get to the teenage growth spurt years, the baby and toddler years are when they seem to grow at an alarming rate on a daily basis; it makes those early years particularly expensive so it always pays to keep an eye out for children's clothes sales, wherever they may be.
Clothes included in the Mothercare children's clothes sale range from tiny newborn in size, right up to 7 to 8 years old.
There are multipacks of vests, body suits, t-shirts, long-sleeved tops, leggings and trousers up for grabs, along with smart one-piece items (like shirts and hooded tops) for when your child needs something a little more special to wear.
There are pretty summer dresses and skirts for girls in the children's clothes sale, and some rather funky shorts and tops for the boys.
The most popular items tend to sell out quite quickly, so I wouldn't wait for too long if you want to go and bag some bargains.