Cheap Sledge £3.85 @ Newitts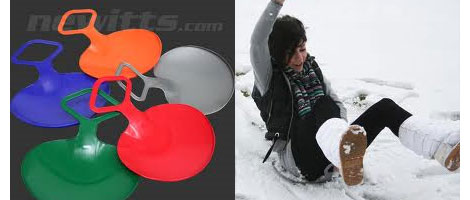 If you have a family of snow lovers and are on the prowl for a cheap sledge or few then I've found some for you!
You'll love the price starting at £3.85 all in, including delivery - and kids will love the name, the Pocket Rocket Bum Sledge.
They measure 450 x 350 x 5mm, have a polished underside to make them super slippery and weigh a tiny 180g.
It's a small, simple cheap sledge and, I imagine, works just as well as any bigger more expensive sledge or your Aunty Mable's best tea tray!
If you think I've got stark raving mad posting sledging deals, then you obviously haven't seen the weather forecast for the next 14 days - with temperatures not feeling above anything minus from Thursday, snow from Friday and then the horror of 'feels like -10c' for lots of next week!
THIS is why I'm going away to the more civilised side of the equator where December and January mean NO snow, temperatures averaging a minumum of 30C and long lazy days spent by the side of the pool.
I'll be thinking of you all with cold wet bums on your cheap sledge Pocket Rocket Bum sledge deal you got through PlayPennies!
Thanks to mdynes over at HUKD