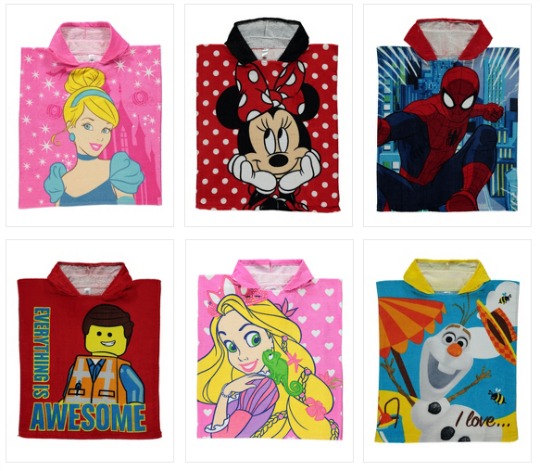 Asda have a big choice of 20 different character Hooded Poncho Towels at £6 each, so you can keep the kids warm and dry at the beach or pool this summer. You can get some unbranded ones cheaper than this sometimes, but for official Frozen, Disney, Lego and Thomas ones this is a bit of a bargain.
I won't list all the characters that are available at there are so many of them, but as well as the ones I've mentioned there are also My Little Pony, Peppa Pig, Spiderman, Fireman Sam and loads of other Disney ones as well. There is bound to be one suitable for your children in that big selection.
There is no information on the sizing, apart from saying "one size", so I'm afraid we can't help you out with that one. The poncho towels are 100% cotton though, so that should help with washing and comfort.
All of these Kids' Hooded Poncho Towels can be home delivered for £2.95, or you can opt for click and collect from your local Asda for free. That's another thing off the holiday list!