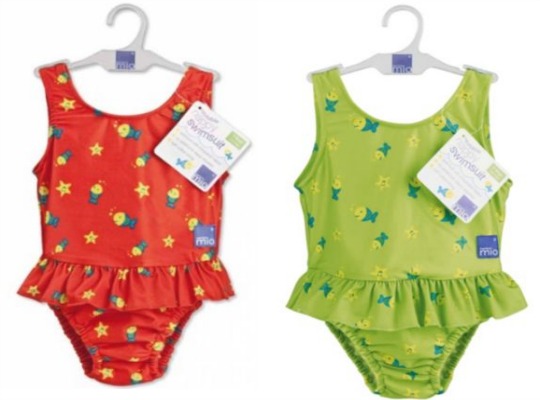 It's never too early to teach your child to be active. One of my first memories was going swimming with my dad. Most kids love swimming, it might not have a calming effect on all but it certainly wears out the energy of all. If you have been thinking of taking your little one swimming then head over to Tesco Direct to buy the swimming costume. They have slashed the price of the Bambino Mio swimsuits from £13.95 to just £5.
The reason I came across these Bambino Mio swimming costumes is because a friend of mine swears by hers for her daughter, but her daughter has outgrown it, and she was looking for another one. The costumes are very highly rated amongst parents I know with little paddlers.
The great thing about these is that they don't require an extra swim nappy underneath. Bambino Mio are well-known for their re-usable nappies so you can rest assure that this will not let any poop out or wee.
Sizes available are X Large in red* only,  Medium in Lime Green*, Large* and X Large*.
Delivery costs £3 or opt for Click and Collect which is FREE.