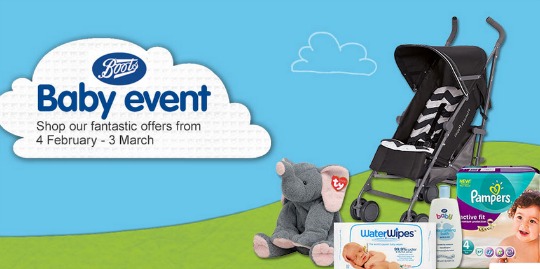 The Tesco and Asda baby events are both finishing, but Boots have just started theirs today, so you still have somewhere to grab great bargains for baby! And if you are a member of the Boots Parenting Club you get points worth 10p for every £1 spent on baby items, making it even better.
The Baby Event at Boots is both in store and online, and they have masses of different offers included. Some are online only, and some will only be available in larger stores due to the size of the baby department, for example nursery and pushchairs.
Here are some of the special offers that they are running this time:
As you can see from the above list there are offers on every area of baby feeding, changing, travel and play, and these offers are the ones that are available to order online, so there may be different offers in stores.
If you are not already a member of the Boots Parenting Club you can click here for information and to sign up. You get 10p worth of pints for every £1 you spend on baby and toddler items, extra discount vouchers and exclusive special offers, as well as samples and freebies. It's free and well worth doing.