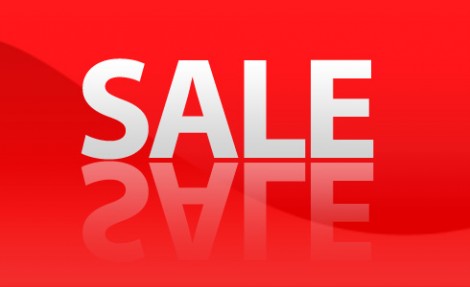 Sometimes the word "sale" is something of a lie. You know what I mean…there are some stores that seem to always be on "sale" and I find myself staring suspiciously at their every advert. It isn't just the sort of sales you need to be wary of either, it is the big sales. Stores are very clever and will do pretty much anything to get you spending your hard earned money.

To start with try and go into a sale knowing what you need or, if you are just going to enjoy the fun of shopping, take only a set amount so you can't spend more than you planned to. When you are in the cut and thrust of the sale, dodging mad humans on every side and trying to nab a lovely item off the rail, you can get a bit caught up in the moment.
To that end, many stores slip non-sale racks in between the sale ones. The theory is that you are so immersed in the fun and discount shopping that you won't realise you're picking up full priced items at the same time. Be wary of this and check every price tag before you totter to the till.
Sales don't just get you to spend money that you don't really have, they can also cost you money in terms of waste. Even Gok rants about how most women's wardrobes are packed with items they've nabbed in sales and never, ever worn.

A great tip that I was given a few years ago by a very adroit shopper, was to take all the items you like, every single last one, and go into a cubicle. Stop. Rest. Don't try them on straight away (unless dogged by small children) but sit down for a few minutes. Then, when you have created a state of mini changing room zen, examine each garment carefully.
Look at the colour, check the item for any snags, tears or stains. I have often come home with an item that was damaged by maniacs in sales and only noticed when it was too late to take it back. After all, most sales refuse to allow returns so when you've bought it, you've bought it.
If you are brutal you will have two piles left. One for trying on and one for leaving well alone. Check the price tags in case a non-sale item has slipped in and enjoy the swooshing about in front of the mirror. Although, and I say this every time, why they feel the need to use such terrible lighting in changing rooms is beyond me. Shudder.
Plan ahead for a sale. It may seem a bit strange, and possibly even a bit frivolous, to shop for next winter in this year's spring sale, but essentials like scarves and hats are wonderfully cheap this time of year and are unlikely to date. Unless, of course, you bought a lime-green bowler hat. That may date.
Do the same for household goods that you may not necessarily need right now, but will in the future. I have tons of dishwashing tablets, fabric softeners and other such household essentials stuffed under the sink. I rarely run out of them as I'm always stocking up whenever I see a great sale.
When it comes to things like BOGOF or 3 for 2 I also strongly recommend you research the prices. In many cases, although not all, the products are the top of the range ones that cost much more than the cheaper ones sitting next to them on the shelf. You aren't saving money, you're just buying a premier brand.

Another pretty obvious tip, but one that caught me out embarrassingly, was to watch sizes when buying in advance for kids. I was so very smug about the fact that I'd stocked up on cute jerseys and stockings for my daughter only to realise that I'd bought them for the age she was, not the age she would be when it came time to wear them. And that was a silly waste of money!
The last tip, given to me by a sale savvy mum of three, was to do it all online. She told me that it was as simple as knowing your sizes, the colours that suit, and the needs of the family. That way you are forced to pause before you purchase and, she said, "you don't get squashed by shopping-crazed teens."