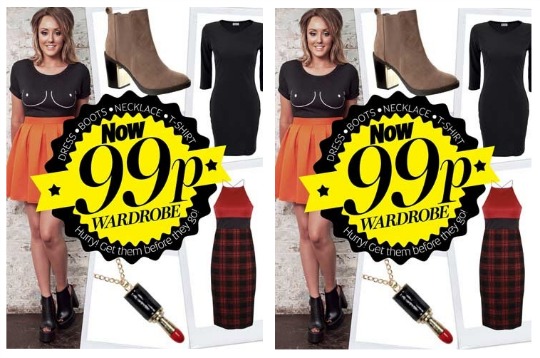 It's the end of January, and we're all broke, so how about a 99p dress to cheer us up? Yep, 99p. All this week Now Magazine are running a daily 99p fashion deal, with a different item from a different designer each day.
Today's is the 99p Darlene Body Con Dress from Daisy Street. Wednesday you'll be able to get a pair of Chelsea Boots, Thursday is a t-shirt, Friday another dress and Saturday is a necklace.
You don't even have to buy the magazine to take advantage of these fashion offers, you just need to use the link to go to the Now Magazine website and all the details and the link to buy the first item is there!
You might think that you are going to get stung with massive delivery charges instead, but the first 99p dress has a Standard Delivery Charge of £2.99, so that's still a pretty amazing bargain!
The other 99p items are not live yet, so we can't look at them in any more detail, but you can see what they look like on the Now Magazine website.
I'm going for the boots rather than the boobs t-shirt. :)
Thanks to beccajay @ HUKD.