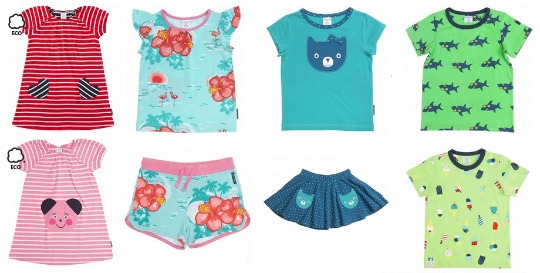 Polarn O.Pyret is a Swedish kids clothes company that you may or may not have heard of (I hadn't) who do wonderful and practical clothing for babies and children. The sale prices are really great, and when you throw in free delivery as well it's even better! The banner says up to 50% off, but straight away I have spotted things with 70% off, so these are big discounts!
To get free delivery enter the codeAFP12 at the checkout to save yourself the £2.50 charge, or if you spend over £25 delivery is free anyway.
Accessories start from £1.64, but that's a baby bow tie, so I'll not count that one. So accessories and underwear start at £2, and clothing starts from just £3.60. There are clothes all the way from birth to 12 years and there are around 600 items in this sale to choose from.
There are loads of summer season items in the sale, and the designs are so cute! The style is different to other cothing retailers I am used to looking at, though I should have expected that from a company that originates overseas. It is nice to see original and new clothing for children, and I really like what's on offer here.
Thanks to goonertillidie @ HUKD (for making me spend more money!)