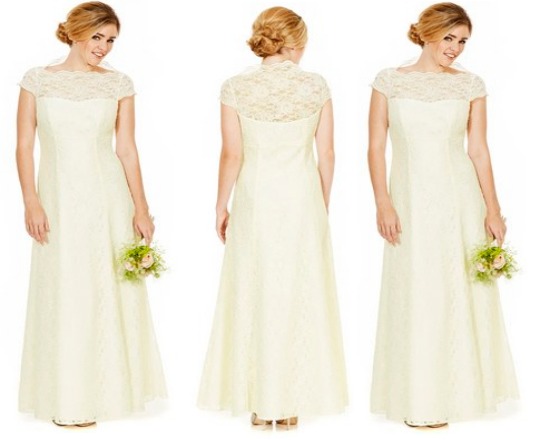 How many of you are with the person you want to marry but feel you can't afford the wedding? It is daunting, the man whom owns my wedding evening venue told me the best advice ever: "Don't tell anyone it's for a wedding as they just double the price." How true is that? F&F at Tesco have launched a budget wedding range and they are even selling a Wedding Dress for just £64!
The Signature Lace Wedding Dress, on first impression, looks gorgeous to me. It's just like what I saw in the Bridal stores that I shopped in earlier in the year. I cannot vouch for the quality of it though.
It comes in sizes 6 through to 18 and is a very flattering cut for any shape really. the reviews are good but advise that you go up a size, which is normal in Bridal Wear anyway. I like the lace cap sleeves and the detailing on the dress.
A wedding is a special day to everyone but that does not mean that you need to spend hundreds or thousands on a dress. In fact if you can save £400-£500 on the dress then you can put it elsewhere.
You can Click and Collect the F&F Signature Lace Wedding Dress for FREE from your nearest Tesco or pay just £3,95 to have it delivered.
Thanks to Chanchi32 @ HUKD