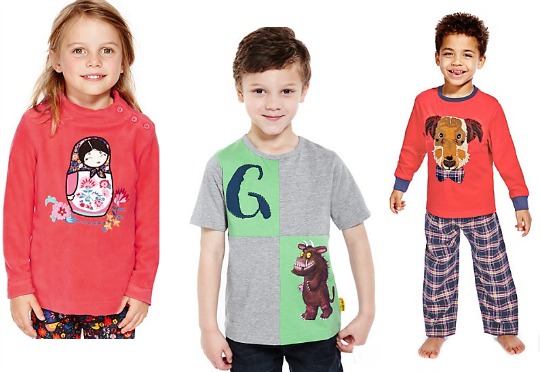 Marks and Spencer have a great sale on just now, whether it's new or not is another matter. A lot of the stock doesn't look familiar to me so perhaps they have added a shed load of new lines to it. Children's clothing starts at just £2.50 per item and for M&S that is ultra cheap. Now's the time to get those kiddies clothes in. It's not all winter stuff either so why not buy that one size up for the coming months.
If you have ever read my blogs about childrenwear at Marks and Spencer then you will know that I rate the quality but I think it's  priced too high. I honestly think that's M&S's weakness.
There's a lot of great reductions in their sale like this Floral & Embroidered Doll Fleece Top* was £12 now £6, Peter Pan Printed Collar Top* was £10 now £5 and Cotton Rich Gruffalo T-Shirt* was £8 now £4.
You can Click and Collect for FREE from your nearest Marks and Spencer store or pay £3.50 for home delivery. If you need your sale items urgently then it costs just £3.99 for Next Day delivery.