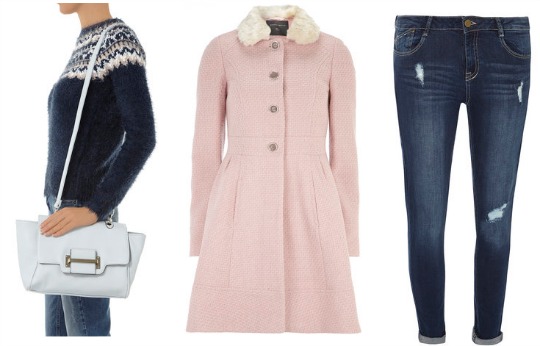 Who said Christmas was all about the kids? All you yummy mummys need some presents for being super! Head over to Dorothy Perkins and they have a very impressive selection of clothing and accessories that have a whopping 30% off. That's good but it gets SO much better...you can have another 20% off on top off that. Just enter Dorothy Perkins promotion code LUCKYU at the checkout and your extra discount will come off. Oh heck my debit card will be melting!
There's certainly plenty of coats reduced and they are lovely. Not the dregs they just can't sell but seasonal, bang on trend lines. Like this Pink Check Boyfriend Coat*, that was £65 then reduced to £45.50. Slap the code in at the checkout and it makes it only £36.40. That's really cheap for a really cool coat.
With items staring at just £2.24 (with code) you can pick up lots of Christmas presents for a friend, sister, mother or even TREAT YOURSELF!  Even if it's just a little, teeny tiny treat like this Floral Scoop Jersey Top* for £5.04.
Delivery costs £3.95 but if you are going to be out and about doing your Christmas shopping then why not click and collect your order for FREE from your local DP store?