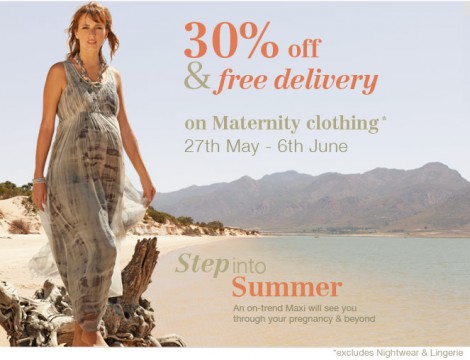 If your maternity wardrobe is in need of some new additions then here's a deal for you
Yup that's right! Mamas and Papas have slashed 30% off the prices of their maternity range (excludes nightwear and lingerie) and the recent sunshine has obviously gone to their heads because they're throwing in free delivery too.
It all starts today and will be running through until 6 June; there are  no codes to remember to enter at the checkout either as the 30% has already been deducted from the original prices for you. If you've never looked in on Mamas and Papas for maternity clothes before then you're in for a treat as there are some lovely LOVELY items in their range this season (and I want to know how some of their models look so stunning whilst preggo too!).
Just to whet your appetite, here are a couple of bits that caught my eye this morning... I was really drawn to this stripey wrap cardigan that's part of the interestingly titled 'Glamazon' range and whilst this is the sort of dress that I would have looked terrible in back in my preggars days, it could look utterly wonderful on you.
Happy 30% Mamas and Papas discount madness!