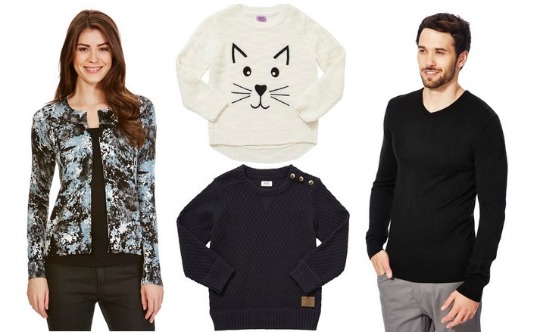 This weekend Tesco are running a promotion on their online F+F Clothing website, with 25% Off Selected Knitwear, giving some really good prices. I wish it was warm enough to not have to wear a jumper or cardi, but spring seems a long way off at the moment, and unless the kids stop growing I'm always going to need to keep buying clothes for them.
The offer is on selected styles for Men, Women and Kids, and there is no special code to enter - the 25% comes off the price you see, but not until you go to the checkout, so remember that when you are browsing.
Children's styles start at just £4.50 in this promotion, Women's from £7.50, and Men's from £6. (Why the women's jumpers are more expensive I don't know!) All of these are really good prices for knitwear, but the offer is only on until midnight on Sunday.
This is an online promotion only, so the prices in store will be unchanged. Delivery charges are from £3.95, or you can use the free click and collect service.