20% Off Knitwear, Homeware & Suits @ M&S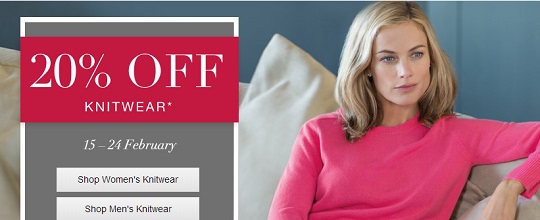 M&S is smack bang in the middle of a tasty sale where you can get 20% off both men's and women's knitwear, 20% off men's suits and 20% off homeware. There is a lot of lovely stuff to choose from and you can even take advantage of their other offer which is offering 25% off on wine cases if you buy two.
The homeware sales sees 30% off sofas and armchairs online and at selected stores and all these offers are valid until 24 February, so you do have a bit of time to get shopping. There is 20% off selected cabinet and bedroom furniture, 30% off selected mattresses, 20% off homeware items and only selected products.
You can get 20% off men's suits that have a T15 product code (whatever that means) and this offer excludes both Best of British and clearance items. In the knitwear department, the sale excludes knitted accessories and Best of British, among others.