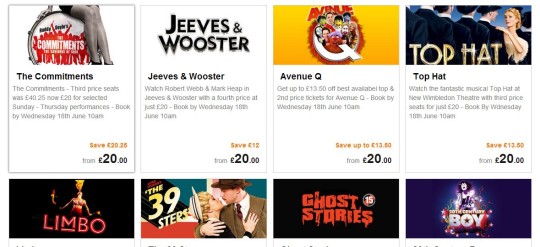 If you missed out on the Kidsweek sale that went live this morning, you can still head over to Last Minute and nab a theatre show for £20. There are 21 shows to choose from and they're all at £20, saving you £12 - £26.50 per ticket. This sale ends at 10am tomorrow though, so you need to get a move on if you're interested.
Whether you're looking for something hot and heavy to enjoy with the other half - like enjoying LIMBO as it fires up the Southbank once more with circus as you've never seen it: wild, wicked and out of this world - or something fun to enjoy with the girl friends, like Viva La Drag!, with tickets set at £20 you could make a night of it for a little to a whole lot less.
If you're travelling by train remember to book in advance so that you can take advantage of discounted fees, and keep a close eye on Groupon so you can find cheap dinner deals too. A lovely night out in the City for less with a little planning ahead.