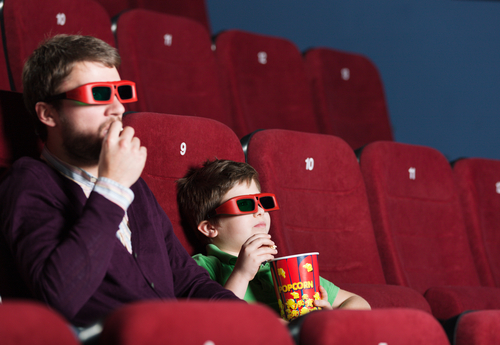 Every weekend and school holiday cinemas around the country drop the prices of kids movies right down for families. This is on every week, but so many families still don't know about it, and if they do, they don't realise what good value it is - I certainly didn't till I booked our first tickets.
Kids AM at the Vue -most movies start at 10:00am  but some can start at 9:45 and you can pick up tickets for £1.75 for adults and kids on Saturdays and Sundays. (3D movies are £3).
Movies For Juniors at Cineworld - For just £1.50 choose from a selection of lively kids movies, from animated films to live action spectacles. Register your details with mycineworld and sign up to receive exclusive film time emails, news and offers and you can take 10% off these movies too - my two little ones and I watch movies for £4.05 all in.
Odeon Kids tickets are between £1 and £2.50 depending on where you live.  For tickets booked online, by phone, through the app, or on the mobile site a Remote Booking Fee of 50p applies to every ticket. If you use a credit/debit card to pay for 1 or more tickets in your online booking, Bookit Ltd will levy a single Card Handling Fee of 21p for processing your credit/ debit card transaction.
Click on any of the links above to go to the cinema's website and see show times.
At these prices, I never mind if my kids aren't enjoying a movie and want to leave, but at full price, I'd not feel as okay with it!