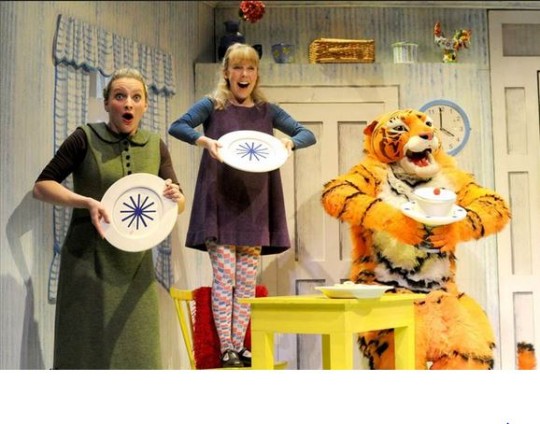 Last year we told you about Kids Week, where Kids Go Free to top London shows, and here's your first heads up about it for this year: in just over one month the tickets go on sale again. Last year I set two alarms and reminders so that I was online with my credit card at the ready as the sale went live, and I snagged front row tickets to The Tiger Who Came To Tea. A couple hours later when friends tried to book tickets, they were all gone! Some of the less popular shows were still available, but the point is, these go fast.
The Society of London Theatre has arranged Kids Week which actually lasts the whole of August, and as part of this, they're offering Kids Go Free to top London show performances. Booking lines open on June 16th, (it was 10am last year, but we'll confirm soon!)
Assuming it's the same as last year, adults have to pay the full fee, with one free child ticket, and two additional child tickets are charged at half price each.  Hopefully they'll also offer the activity days again, where some shows on specific days  have 'activities', like a tea party, included in your ticket price. 
They recommend that you have a 'variety of dates' in mind when you go to book and I'd suggest the same:
Pop your reminder in your phone and diary, have a list of potential dates, look back over the next month or so to see what shows will be showing during kids week, and get ready to pounce when the tickets go on sale!