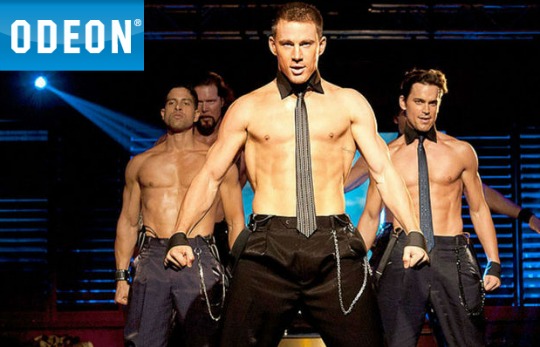 The new Magic Mike film is being released soon  and Odeon cinemas are running a special Double Bill Event on 2nd July where you can pay one price to see both films, and you get a free glass of wine served to you by 'Butlers In The Buff'. Yes, really.
See Magic Mike and Magic Mike XXL Back to Back, with ODEONs exclusive double bill. The only place to see Magic Mike XXL before the film is released.

With your ticket you'll also get a glass of Prosecco* or non alcoholic alternative served to you by a Butler in the Buff.

Doors open at 18:30, make sure you're on time to get your glass and take photos with the Butlers.
This is an over 18's event only, and they are very strict on asking for ID, so expect to be asked of you look 25 or under as that's their policy. Tickets are £19.50 each, and that is for the whole event including the first film and this exclusive preview of the new Magic Mike XXL, plus your semi-naked butler with the glass of vino.
This event isn't on in every cinema, and it looks to be the ones with a separate bar area or Premier Lounge where they can hold the event. If you click on the Odeon link you can see a list of cinemas that are taking part.
Tickets are already on sale, and from my insider info I can tell you that some sites are already sold out, so this is going to be a very popular event.
Just for the record I am not condoning the objectification of semi-naked men, just passing on a decent price for a night out. Please direct any complaints to Odeon or Butlers In The Buff, as it was their idea not mine!