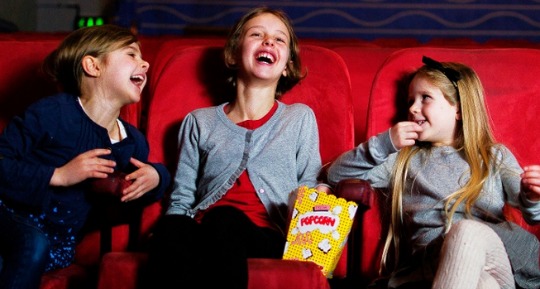 You might already know about the cheap cinema screenings that Vue, Odeon and Cineworld have for children, but these are such great value that it's worth a quick reminder.
We can also give you an update on which films are coming up and the prices too. With the Easter Holidays looming in a week (or two if your kids go to the same school as my son!) this might give a cheap trip out on a rainy morning.
Vue Cinemas Kids AM*: Adult and childs tickets from £1.75 for 2D and £3 for 3D films, on weekend and school holiday mornings. Dates may vary locally due to school holiday differences, as will screening times. The schedule for the next few weeks includes:
Paddington (PG) on 21st, 22nd and 29th March
Night At The Museum: Secret Of The Tomb (PG) on 10th, 11th & 12th April
Annie (PG) from 27th March to 2nd April
Into The Woods (PG) on 10th, 11th & 12th April
Big Hero 6 (PG) from 3rd to 9th April, 12th April, 26th April.
Odeon Kids*: All tickets are £2.50 each, except in 7 sites where they are cheaper than that (£1 - £2). Screenings are at 10am at weekends, with many sites offering a choice of 2 or more films each Saturday, Sunday and School Holiday. This weekend of 21st and 22nd March it looks as though cinemas will be showing one or all of these, depending on the size of the site:
Get Santa (U)
How To Train Your Dragon 2 (PG)
Paddington (PG)
Cineworld Movies For Juniors: Tickets are £1.75 for 2D and £3.25 for 3D. Showings are every weekend morning and school holidays at selected sites only. You need to check your local site listings for details and timings, and you can do that on the Cineworld website. Like Odeon it seems that larger sites offer a choice of films rather than just one, and this weekend 21st and 22nd March partcipating sites will be showing one or all of these:
Paddington (PG)
Tinkerbell & The Legend Of The NeverBeast (U)
The Book Of Life (U)
If your local cinema is an independent rather than part of one of these large chains they may well offer their own version of what used to be a "Saturday Morning Kids Club" where films that have finished their first release run are offered at a cheaper price. These cheap kids cinema showings offer great value for money, with no extra charges for adult tickets.