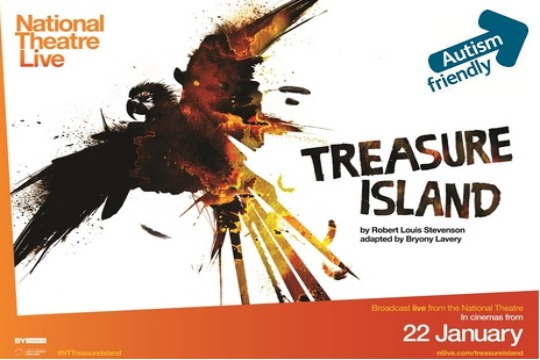 We've previously told you about the monthly Autism Friendly Cinema Screenings done by the main 4 cinema chains. As part of the preparations for National Autism Awareness Week (from 27th March) there will extra screenings at selected Odeon and Vue cinemas of The National Theatre's production of Treasure Island.
Screenings of live shows by The National Theatre have been screened in cinemas before, but these will be extra shows that are autism friendly in the same way that the regular film screenings are. This means that the lights will be on at a low level throughout, the sound levels will be lower, there will no ads or trailers, customers will be able to sit where they wish in the screen, and will be able to bring their own food, all of which is designed to make the experience more enjoyable for families affected by autism.
The live theatre production of Treasure Island is starring Arthur Darvill as Long John Silver (remember him as Rory in Doctor Who?). The production is not suitable for very young children though, as anyone familiar with the story will now, and they recommend that it is suitable for ages 10 and above. Click here for more information on Treasure Island, the production, pictures and the trailer.
Odeon's screening of The National Theatre production of Treasure Island will be on Sunday 8th March at 10am. It will be showing in the following cinemas: Derby, Glasgow Quay, Maidstone, Mansfield, Southampton, Southend. Different ticket prices may apply.
Vue's screening of Treasure Island will take place on Tuesday 31st March at 7pm, and it looks like this will be in around 80 of their cinemas. Again different prices will apply for this performance.
This is something different from the regular cinema screenings, and hopefully will be the first of many such events that are in a more autism friendly environment. For more details and to book tickets you can find information on the links above, or you can contact your nearest participating cinema direct.