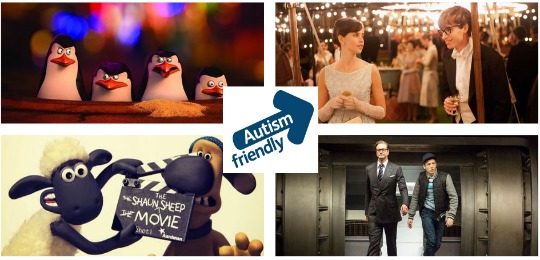 We already told you about the Autism Friendly Screening of the new Night At The Museum Movie that is on at selected Cineworld cinemas tomorrow. If that was of interest to you then we also have the details of the next Autism Friendly Screenings at Odeon Cinemas for January and February to pop in your diary.
Odeon, along with several other cinema chains have been holding Sunday morning screenings in selected cinemas each month where they change the environment to make it more suitable for customers on the autistic spectrum. These changes include keeping some lights on during the performance, lower sound levels, no adverts or trailers before the performance, no allocated seating and customers are welcome to bring in their own snacks and drinks for these performances too.
Here are the details of the screenings that are planned so far:
Sunday 11th January 11.30am - The Penguins Of Madagascar.
Sunday 8th February 11.30am - Shaun The Sheep.
This month Odeon are also starting a trial of Autism Friendly Screenings on a Monday evening, for a more mature audience, which is a welcome development for many. As these new Monday evening screenings are a trial they are only at the following cinemas at present, but if they are a success there is the chance they will be rolled out to more cinemas: Birmingham Broadway Plaza, Blanchardstown,Cardiff, Glasgow Quay, Greenwich, Kensington, Sheffield, Southampton, Trafford Centre, Wimbledon.
These are the screenings planned for the Monday Evening Trial:
Monday 12th January 6pm - The Theory Of Everything.
Monday 9th February 6pm - Kingsman: The Secret Service.
All of the above screenings are in 2D, not 3D, and you are advised to check your local cinema for exact times and booking information.