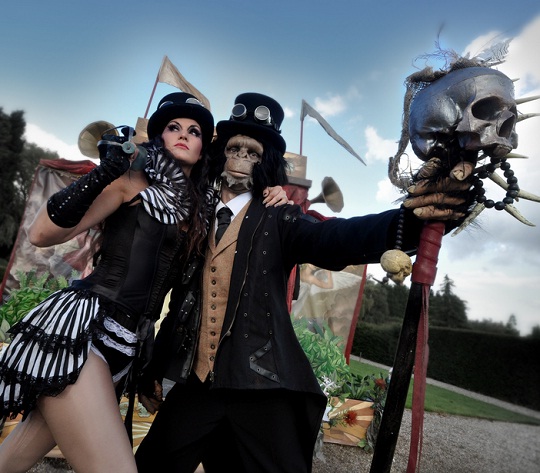 As we settled into our seats I had a nagging doubts. Was I about to scar my seven year old son for life?
We were at Zippo's latest circus show, Cirque Berserk, currently on at the Winter Wonderland in Hyde Park, nightly at 7pm and 8pm. It was advertised as taking  its inspiration from the dark and twisted fairy tales of the brothers Grimm and others. Cirque Berserk is a very contemporary circus thrill show with strange characters, motorbikes, knife-throwing, fire, quad bikes, ultimate high wire and more. I was told by the lovely lady who arranged our tickets that she had gone with her five year old nephew, and he'd loved it.
Normally, we wouldn't review anything that was so local to one geographic location. But Winter Wonderland is a brand that is spreading, it is also running ice skating rinks in two other locations. Plus the Christmas holidays are one time where many people like to squeeze in a trip to London for a spot of shopping. And Winter Wonderland is within walking distance, or a couple of stops on the bus, from Oxford Street. So what was our Cirque Beserk experience like?
Winter Wonderland is free to enter, and as such it gets very crowded during peak times, such as Saturday evenings. If you've reserved tickets though, you'll be allowed through even if they are restricting entry to the site.
Tickets for Cirque Beserk are £7 for children and £10.50 for adults (or if you can go at off peak times, on the 2nd or 3rd of Jan it is £6 and £9.50 respectively).
Keep in mind that you'll be going past a lot of very attractive rides and other entertainment stands on the way to the circus. It is unlikely you'll be able to stop the kids from wanting at least one ride! And here's a tip - take cash. The money machines onsite charge a staggering £2.50 for each withdrawal.
I was surprised at how small the circus tent was. Its very cosy, and you've a good view of the action from any location. It is dark in there, there's lots of flashes and sudden noises. None of that bothered my son. What appealed to me was that it runs for 45 mins. That's enough circus for me - I find it gets boring after a while.
There's no animals, only human performers. I was worried at the start. This involved a gothic looking lady in what looked like a wedding dress doing a lot of wailing. Son told me he was a bit scared. I was too - the acrobats dressed as chimpanzees were really quite creepy.
But once the action started we were instantly caught up in it all. The 'monkeys' sort of take on the role of the clowns in a normal circus, filling in time with some excellent acrobatic displays. The high wire acts are similarly excellent, and there was some inventive quad bike stunts. But what really blew me away were the motorcycle stunts. This was worth going to the circus alone.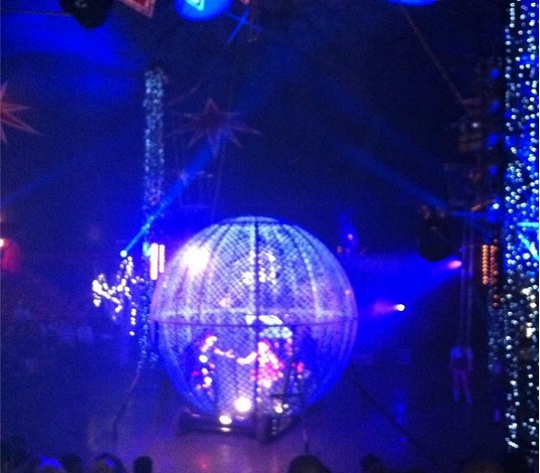 A tiny sphere is wheeled out. Really it is so small you can't imagine one bike in there. But they start with two, and a person standing in the middle. Then there's three bikes in there. And then four! It does get a bit fumy so I was glad I was sitting a bit further back. But I have to say it was a spectacle worth seeing.
We also had a great time in the fair itself. You have to buy vouchers for the rides. Most of the adult rides and fun houses cost £4 per person, and you'll need an adult to go in there too. The children's rides cost £2 to £3 a go. If you go in through the main entrance, and up past all the retail stalls, skip the first fun house and ghost train you come to if you're on a tight budget. These are rather run of the mill, and there's better ones further in for the same price.
Both my son and I loved the Pirate's Adventure fun house. It looks the business, and has a lot of adventure bits, plus interactive stuff and some parts that really do make you jump out of your skin.
There was still a lot for him to do in Santa Land. Which is a good place to head straight to if you've under 10 year olds. Lots of rides and games, mostly for around £2. We skipped visiting Santa as son wasn't interested. I absolutely LOVED The Toy Workshop. Son liked it but wasn't fussed. I'd go again just for that!