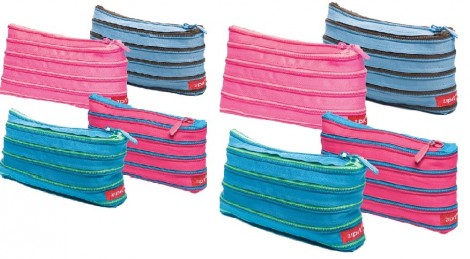 Have you ever encountered a product that is so ingenious and clever that you think, "Why didn't I think of that?" Yeah, me too. I recently discovered the Zipit range of products and fell a little bit in love with the idea. Everything is a zip, as the name suggests, and they make up some really funky items.
I got the Zipit pencil case which comes in quite a few different colours and costs around £6.99 if you buy it from their online store. I found it on sale at Osborne's Stationers for £3.33. The colour I loved was the Rainbow Zipit which was sparkly and pretty cool, and rather fab for kids and mums alike.
When I first unwrapped it, the entire length of the bag fell out unzipped. It was faintly intimidating as I was worried I'd have to figure it out or something, but no, it is extremely easy. Just start where the zip is and go. The entire pencil case zips up in seconds.
It is totally genius. I mean, seriously, the whole pencil case is one big zip from start to finish. It zips up and zips closed. Brilliant. My daughter utterly loves it and for days I've heard the sound of "ziiiiiip" coming from her room as she's opened and closed it up almost continually.
Value for money? Well, yes. The fabric is sturdy and durable and the entire thing can be thrown in the wash if it gets a bit manky. The zip is good quality, doesn't stick, and the colours are just lovely. The concept is quirky and clever and the design solid. It has undergone a lot of zipping and has yet to snag, break or break, which is more than I can say for things I bought to wear this summer!
I now plan to get the zipit gym bag because it is just too cool for words.