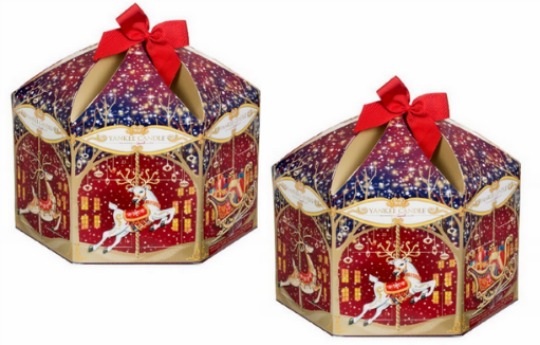 WOW! We haven't seen this Christmas 2015 Yankee Candle Carousel Advent Calendar for so little. Be quick, we doubt it'll last long at this SUPER price. Reputable Amazon Seller: Peter's Den are offering it for just £22.32 including FREE delivery. This is the first time we have seen it below £25 so we are super excited. You may be thinking, it's only October, but Advent will be here before you know it. Plus you are better off scooping up this bargain before the prices increase.
What do you get in the Yankee Candle Carousel Advent Calendar? It contains TWENTY tea lights and FOUR votive samples altogether which is more than the Yankee Candle House Advent Calendar, that sells for around the same price.
The Yankee Candles behind those 24 doors are a variety of different scents, all festive of course. This is an ideal gift for a friend or one to yourself for being a fabulous parent this year.
Grab one now before they all go!