It's that time of year again where we're all looking for bargains that can bring delight on Christmas morning, without robbing us of food come January. Not only do we want something that doesn't break the bank, but we also want something that's going to last a while – none of this not making it through Christmas day, cheap junk, right? I mean, what a waste of money. So... where do you go for durable, good quality toys that will keep the kids busy through at least lunch, and hopefully beyond?
WOW Toys is a good place to start.
Suited to children around 18 months to five years old, WOW Toys are plastic, but PVC free. They are also completely battery free, which is something WOW really pride itself on. They make mention of it a lot! I must admit though, that is a huge selling point for me. I hate toys with batteries, because they are usually annoying, always expensive to maintain and generally an environmental death trap. WOW Toys don't require batteries, so while you're still dealing with a plastic toy that will be in landfill somewhere long after you and I are gone, that's also one of it's selling points – these toys are durable. They can withstand being thrown, jumped on (more or less), rolled over, and driven into walls. They are perfect hand me down toys, and are exceptionally good value for money – especially if you get them on sale.
We were sent three toys to review, so I'll do them individually.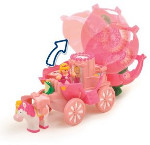 Pippa's Princess Carriage* (£19.99) is a pink pumpkin carriage with a frog in the driver's seat and white horse, Snowdrop, pulling it. It comes with two figurines – Princess Pippa and the Fairy Godmother. There's a 'magical' element to this toy. Two in fact. Firstly, as it's pulled along, the carriage makes a clippety-clop, clippety-clop sound, and secondly, there's a revolving mirror in the carriage. As Pippa turns in her slot, the mirror turns so it looks like her reflection. It's really clever and mesmerised my toddler no end. .
The lid of the carriage opens upwards, so that there's space to play inside the carriage without losing the lid, which I think is pretty brilliant, actually.
There are little 'accessories' stuck on to the carriage in places, like the cat on top of the wardrobe, or a letter and a rose on the table. These to me are about the only flaw in this set as my daughter likes to pull stickers off, which is a bit unsightly and makes the toy look a bit worn when there's actually nothing wrong with it at all.
Also, if you're buying online there are pictures of an orange and blue carriage, but I'm not sure this is still available, or if there's just the pink option. The pink is very pink though.
Ernie the Fire Engine*(£20) is a great toy. He is so chunky that he is totally inedible by babies, but perfectly sized for toddler hands. He has a motorised engine and he makes 'realistic' truck sounds. The ladder is a movable, swivelable, clicking ladder, so when the driver – Jack – stands in his designated spot he can be used as a key to make the ladder click click clack its way up. You can also turn the key hole without a person standing in it, which is useful if you misplace Jack.
The front cab opens and the tailgate opens and there's a removable safety barrier – can't have chaos on the roads after all. I love ol' Ern. He has such a friendly face, I'm not sure how they did that.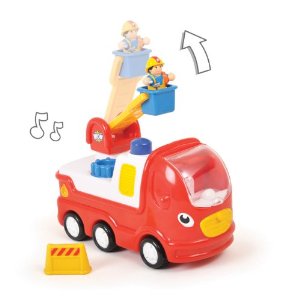 My favourite set, however was Robin's Medical Rescue*. It's a huge ambulance and comes with three figurines and two 'extra' bits – a wheel chair and a stretcher – so it's a really good set for it's £25-odd. It also has a fair number of levers and switches: there's a push button to release the wheelchair so that it can go down the ramp, which has been opened by a different button. The side door slides open and the stretcher pulls out. There's an x-ray machine which is stood 'in' to show an x-ray of the bottom half of the legs. It's really cleverly thought out. The roof also lifts off to allow access to the inside.
The Good
These toys are excellent quality
They contain 'hidden' things to make them engaging and to make them grow with your child
You could set up an entire village with all the sets available.
The backdrops in the boxes could be used to add to the décor on your play area
The figurines are interchangeable, so it fine if they get used in different places
They're chunky, durable, hardy and chewable, or suckable, without being swallowable. We have a few of the little workmen figures and my baby's forever sucking on them, but they're too chunky to be swallowed.
There's so much to do in each toy, they're really interactive
They don't require batteries, but still make sounds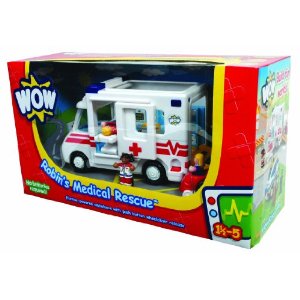 The Bad
Some of the parts have stickers on them. That's a bit of a fail for me, because my toddler just loves pulling off stickers.
To own the whole lot you're going to have to take out a second mortgage on a barn or something similarly spacious.
The Verdict
If I had seen these online, I'd have thought they were quite expensive. Having them though and knowing that they're pretty unisex (except maybe the super pink carriage, but as part of a set that's not such a big deal, really. ) and will withstand more than one child and shouldn't break, I think they're excellent value for money. They'd certainly make for a nice big parcel under the Christmas tree and I'm pretty sure the contents won't disappoint either.