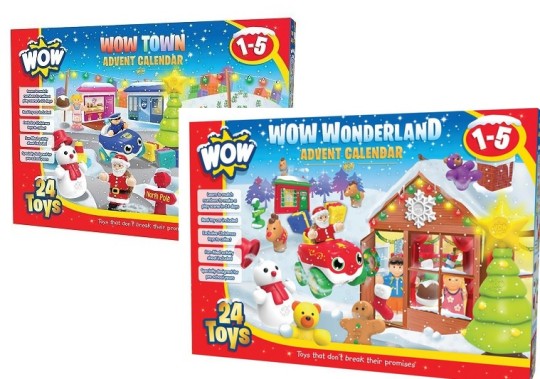 A few weeks ago Amazon's lightning deals included the WOW Toys Advent Calendars, and we realised many of us had never even seen them before, but we found they were particularly popular with especially parents with younger kids. Well, they're JUST live again on Lightning Deals and you will have a couple of hours  to nab them, if they don't sell out first. These calendars are reduced from £19.99 to £14.99
If you'd like to avoid sweets or dairy or whatever your reason, but your little one is too small for LEGO calendars, we think these WOW toys advent calendars are a great alternative.
Each day in the lead up to Christmas the calendars reveal a cute figure which can be matched with the numbers on the fold down play scene to make your very own Christmas world. I also love that these WOW Toys Advent Calendars are pretty unisex and both boys and girls will love collecting new toys.
The WOW Wonderland Advent Calendar contains 24 toys including 1 push-along police car as well as a fun-filled activity booklet. The Toy Town Calendar also has 24 toys including 1 push-along Santa car and a fun-filled calendar. These are designed for pre-school years and suitable for children aged 1 - 5 and in a bonus for this time of year, they require no batteries.