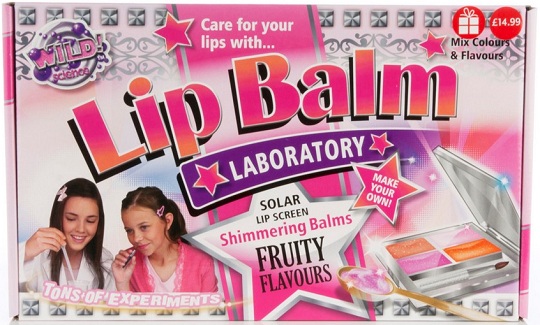 The Wild Science Lip Balm Laboratory for £8.99 will make the coolest Christmas gift for girls this year. Part of the "Up To Half Price Christmas Gift Collection" at WH Smith the Lip Balm Laboratory is reduced from £14.99, saving you £6.00.
This kit is so much more than just a Lip Balm craft kit. The kit uses industry standard ingredients to create an infinite variety of custom balm bases. Make your own fabulous lip balm suitable for cold or hot weather, for sun or wind and with a softer or harder feel. You can mix and match colours and flavours in your lip balm compact. Add textures with professional shimmer and SPF factor using UV detector beads. The booklet illustrates every step in colour, and features extra cosmetic science experiments.
The contents include: soy ester, baby oil, vegetable wax beads, sun stopper, fine shimmer, 2 x fruity flavours, 3 x UV beads, oil based yellow & red colours, balm compact 7 brush, spatula, big & small beaker, gloves, use by date stickers, special work bench, microwave heating tray, colour instruction book & safety sheet.