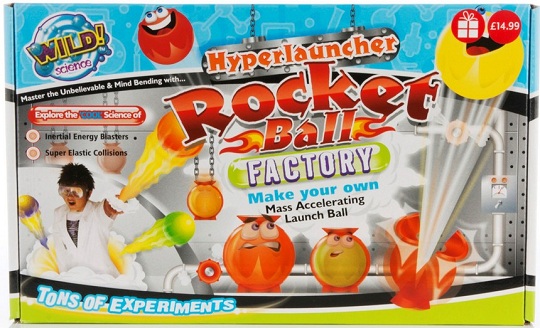 This is a great Christmas gift for children that love to make things and figure out how things work. The Wild Science Hyperlauncher Rocket Ball factory from WH Smith is marked down from £14.99 to £10.49 saving you £4.50, that's 30% off!
Click here for the super cool Rocket Launcher from WH Smith*
With this awesome kit your children can make their own bouncy balls. They can make them in different colours and even make glow-in-the-dark balls. They will discover how to mould the bouncy balls and how to launch them into space. They'll discover the science of elastic collisions and so much more. They'll really have a blast with this kit and it'll keep them out of mischief these holidays while the miserable weather stops them playing outside. Just watch out for the windows!
This kit contains enough material for the experiments to be repeated several times. The contents include: red water-based moulding granules, glow-in-the-dark water-based moulding granules, yellow water-based moulding granules, four moulds, safety goggles, plastic tubes, wooden dowel, and a colour instruction booklet.