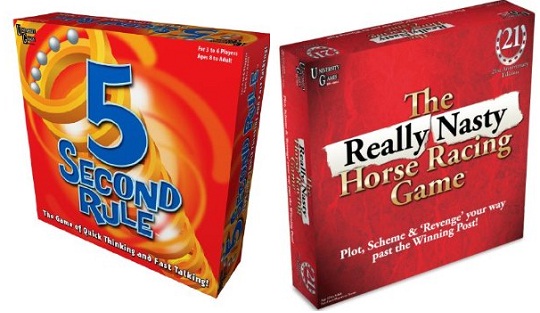 Do you know what toy category came in third place last year at Christmas? Board games. Yup. Good, old fashioned board games OUTSOLD video games.
It isn't really a surprise. There's not usually any batteries involved for one thing. You can stash board games away in the cupboard and pull them out once a year and they still work. The graphics look good, and the game play hasn't been outmoded.
And they're a present for the whole family. OK, so conceivably is a Wii BUT a board game isn't quite so expensive. And you don't need a console. Or controllers. Or any other accessories.
So here we are, in the run up to Christmas, yet again. Blimey you'd think it happened every year! I received two board games to try out from University Games. These are games suitable for older children (and adults). The Five Second Rule (£17.99 on Amazon) and The Really Nasty Horse Racing Game (£15.99 on Amazon).

The Five Second Rule
I was slightly bemused by the name of this game. In our house the 'Five Second Rule' is what I apply to all food that has been dropped on the ground (depending of course on where we are, what's been dropped, and the wail-factor of the child dropping it). I was guessing that's not what this game would be about.
The 5 Second Rule is a game for 3 to 6 players, for those aged 12 years and upwards. The object of the game is to correctly answer the most questions by giving three answers before the balls twist down to the bottom of the timer.
Incidentally, the timer gave me a fright! There aren't just balls in there. It has one of those thingies that makes a noise when you turn it upside down. This happened to me when I picked the box up and turned it over. It sounds rather like a ghoul is trying to escape.
I was expecting something more like Trivial Pursuit when I opened the box, and it isn't anywhere near as substantial. The board is a lot smaller than I thought it would be, and the cards are tiny and flimsy. There's a heck of a lot of packaging for its size. For the money I just thought the materials used all seemed rather cheap.
However, it all comes down to gameplay. Is the game any fun? Yes it is. I played it with my neighbour and my husband and we were just in fits of laughter. It is a lot harder than you think to think of three numbers that add up to 100 when you've only got five seconds! This is the British version of a game that's apparently really popular in the US. Still my husband was not impressed when he was asked to name US presidents!
Pluses: lots of fun, gives you a chance to show off, fast paced
Minuses: poor quality materials
Really Nasty Horse Racing
This game was going to get a hard time from me - a really hard time. As a kid I had a favourite game, based on horse racing, and all you needed to do it was a pack of cards. I have played that game many times with my step children as well. To fork out £15.99 of my hard earned cash this game was going to have to be way way better.
Well this game is quite a bit different to what I thought it would be. There's more strategy involved and it is very competitive. If you're the sort of person who turns into Mr or Ms Nasty when playing Monopoly then you'll love this. If you can't stand losing then you probably won't so much.
The game is for ages 12 years and upwards, and for 2 to 6 players. However, it does have potential for a Christmas game if you've lots of visitors as you can play in teams. So potentially there's no limit to how many players you have.
We didn't try it out with teams as there was only the three of us. I think they could have included more than one betting pencil in there. You'll want to get yourself an eraser if you don't have one as that's not included either. There's only one pad of betting slips.
I'd also recommend getting the rules out and having a good read before you do decide to start playing. It is complicated, and not so much fun at the beginning when you're sitting there trying to figure out what to do (especially if you get it wrong to start with!) and you're on your third glass of wine!
Whether I'd want to play this with children, even if they are as old as 12, will depend on the child. You really do have to be nasty to each other, and I'm not sure I could do that to someone under the age of 16!
Pluses: it is always fun to be nasty, can play with lots of people, no questions!
Minuses: more complicated than most board games
And finally ...
The 5 Second Rule is easy to play, and a lot of fun. I would pick this one to pop in the car when we were going camping or to a caravan. I'm just not sure how well it is going to last, particularly the cards.
Overall Verdict: 7/10
The Really Nasty Horsed Racing Game is the one I'd pull out of the cupboard on Boxing day afternoon, or during the holidays when the weather is wet. The gameplay is fairly complicated but that will add to its longevity I think, making it an interesting game to play again and again. Not really a game to play with children and adults together.
Overall Verdict: 8/10