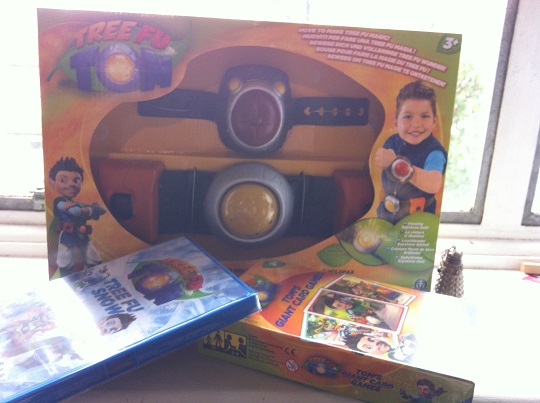 I love Tree Fu Tom. This show is like everything I used to imagine as a small child, being magically transported to the garden in a tiny size so a blade of grass is like a tree. Of course all the insects were benevolent (as were all the other animals) in my fantasy. I think I expected to go flying on ladybirds.
Specifically Tree Fu Tom is a CBeebies TV programme is about the adventures of a young boy called Tom who, with the power of 'movement magic' called 'Tree Fu', can transform into a tiny but mighty magical super hero and travel to a wondrous enchanted kingdom called Treetopolis that exists in a tree in his back garden.
There are of course toys and merchandise to go with the show. If this had been around when I was a little girl, I think the toys would have been top of my Christmas list! We got a selection of items in to review. Read on to find out how we got on.
As for the little Dalek in the photos I took - he's just there because it was Doctor Who day last Saturday. 50 years on air. Now that's a TV show!
 Tree Fu Tom Magic Sapstone Belt and Holopax
Our wee five year old test, and Tree Fu Tom fan, thought Christmas had come early when he saw this in the box. The Tree Fu Tom Magic Sapstone Belt and Holopax is priced at £15.99, which for TV show merchandising was a reasonable price for what you get. His mum and I both agreed it would make a decent Christmas gift.
The Sapstone Belt and Holopax are both items that Tom wears, and they help children role play as Tom or a character in the show by wearing them. Our young tester put these on a Friday and his mum tells me that he wore them all weekend, only taking both off to go to school on Monday.
In the show, Tom uses his belt to shrink to insect size and enter Treetopolis. Sometimes he needs more magic, and he asks the children watching to send this magic to him. By performing Tree Fu moves and passing their magic through the screen Tom can create the spectacular Big World Magic needed and save the day. All spell movements have been developed from those used to help children who have movement disorders and difficulties such as Dyspraxia, and the spell sequences have been designed by movement specialists/therapists to assist and enhance the development of all children.
By moving around the child wearing the Sapstone belt causes the 'Sapstone' to glow, much to the delight of our young tester.
From a parent's perspective the toy is quite chunky. It is possible that some children will find it a bit bulky to wear. The belt was easy enough for our young tester to put on and take off himself, but he needed help with the wrist device.
The wrist device looked huge when it was put on, and although he loved playing with it, our tester didn't wear it for too long before taking off.
The buld quality seems really sturdy, and certainly the belt (gently prised off the sleeping child by parents) took three days of continuous wear without breaking.
Overall verdict: 10/10

Tree Fu Tom's Giant Card Games
This item seems a little more difficult to find in the UK. Tree Fu Tom's Giant Card Games is four card games in one box. Priced at £4.97 (plus £2.49 postage at Buy 4 Less*) it would work out to be pretty good value if you're either buying other items or can find it for a straight £5 elsewhere.
The four games you can play are Swap, picture pairs, snap, or a matching game. It is for up to 2 to 4 players, and there are 32 giant cards in total.
We did have some fun playing, and the good thing about cards these size is that it makes them easy for little hands to hold. They look pretty sturdy. The problem is that, our tester wasn't really interested in any of the games as such. Last time I popped around for a visit, he had stuck them up on his wardrobe door, to display the pictures!
Overall verdict: 6 / 10
Tree Fu Tom Tree Fu Snow DVD
This is a tough review because it is a DVD. If your little ones like this show, or this type of show, then I think it is a great buy. The Tree Fu Snow DVD is priced at £7 at ASDA*. There are seven adventures on the DVD, so that works out at £1 per episode. Not bad!
What I quite liked about this DVD is that it shows how the different types of weather can be both good and bad for everyone.
Overall verdict: 9 / 10